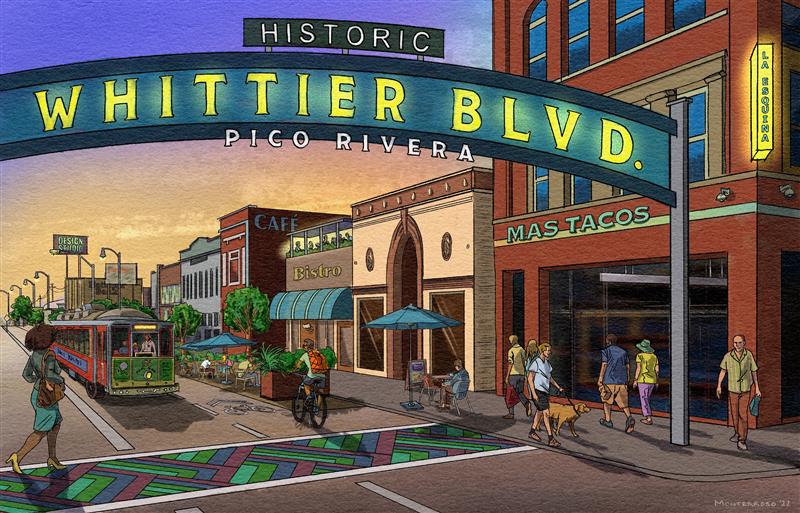 Historic Whittier Bl. Revitalization Program
The City developed and is aggressively advancing Pico Rivera 2035 (PR 2035), a modern-day renaissance designed to stimulate holistic community revitalization through smart, equitable, and sustained long-term community development and economic growth. PR 2035 seeks to leverage existing resources to attract significant investments while aligning legislative support for capital infrastructure and innovative programs, projects, and policies that will transform the city and the region alike. By thinking globally and acting locally, PR 2035 strives to surpass regional, State, national and worldwide goals. At the heart of PR 2035 is the Historic Whittier Boulevard Revitalization Program (HWB Program). 
The HWB Program consists of several programs, plans, projects, and policies, with the Historic Whittier Blvd. The HWB Program includes the development of two plans – the Historic Whittier Boulevard Multimodal Revitalization Plan, paid for through a Caltrans Sustainable Communities Planning Grant, and the Whittier Boulevard Specific Plan. The Specific Plan will articulate a vision for a new and improved Whittier Boulevard and represents a strategic planning approach to formally embrace and reflect the rich history, culture, and diversity of Pico Rivera while cultivating a people-oriented and equitable place where all community members thrive. The Historic Whittier Boulevard Multimodal Revitalization Plan will be a stand-alone and a key component of the Specific Plan that focuses on multimodal improvements to walking, bicycling, transit access, and micro transit. Through the principles of collective impact and collaborative governance, the Specific Plan will ultimately serve as the foundation for establishing an official "uptown" district in Pico Rivera.
The City of Pico Rivera is moving forwarding in delivering the vision of Whittier Boulevard as the new uptown Pico Rivera. The proposed Historic Whitter Boulevard Multimodal Revitalization Plan that will ultimately become "uptown Pico Rivera" will include all of Whitter Boulevard up to the City limits of Montebello to the west and Whittier to the East. The purpose of this project is not only to revitalize "El Camino Real" in the City of Pico Rivera with just pavement improvements, it will also serve as a catalyst to the ever-evolving modes of safer and healthier transportation options that are or will be available in the near future. The Plan is not only about revitalizing the road, but the area itself. Whittier Boulevard has long been seen as an economic gold mine with the opportunity for thriving businesses and housing along this historic road. Once the Plan has been completed, and the area transforms into Uptown Pico Rivera, it will be a change for the better, a change that residents will have a say in.
We would love to hear your feedback on this project!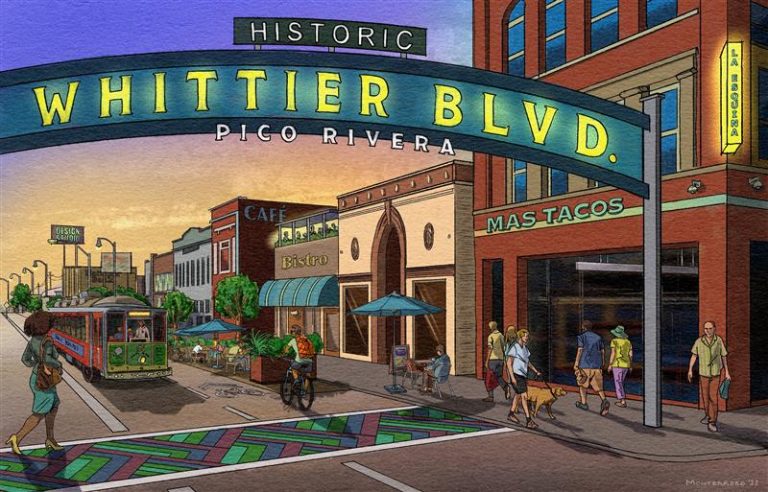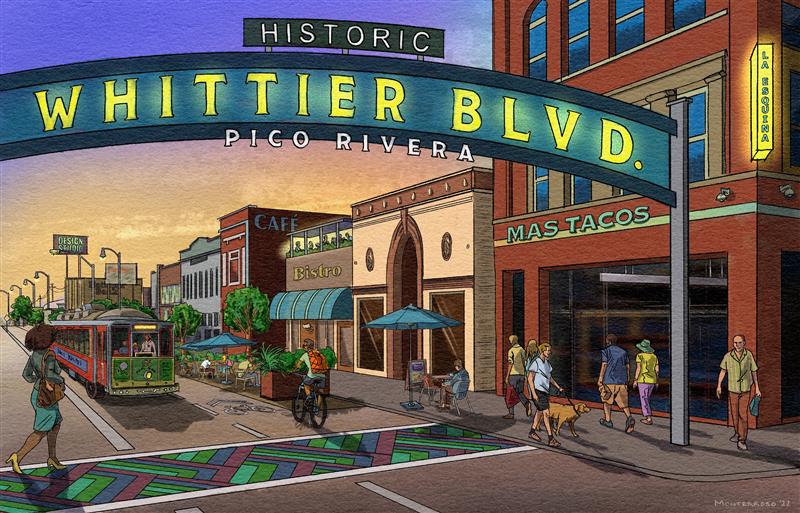 Join the Virtual Community Town Hall Meetings
Topic: Town Hall Town Hall Meeting
Time: Feb 27, 2023 06:00 PM Pacific Time (US and Canada)
Join Zoom Meeting
https://us06web.zoom.us/j/82010940402?pwd=QjhvNjJVemlrM2lGMUR3a0xqVkx3UT09
Meeting ID: 837 4946 6526
Passcode: 623112
One tap mobile
+16694449171,,83749466526#,,,,*623112# US
+16699006833,,83749466526#,,,,*623112# US (San Jose)
Community Outreach & Engagement – December 2022 – September 2023

Background, Discovery, & Existing Conditions Research – November 2022 – April 2024

Draft and Final Plans Developed – July 2022 – June 2024
The HWB Program will address the following community sustainability and livability objectives:
Equitably engage and empower residents, especially those who are disenfranchised, to actively participate in the City's decision-making and planning processes.

Identify obstacles to multimodal mobility, access, safety, and comfort in the corridor areas and nearby neighborhoods.

Identify transportation, land use and infrastructure challenges that impact business performance and development opportunities.

Identify improvements to provide a complete and coherent network for bicyclists, pedestrians and users of transit.

Recommend locations and engineering treatments to moderate traffic speed (where needed), improve pedestrian crossings, and otherwise improve safety for cyclists, pedestrians and other vulnerable road users (including those with physical disabilities, seniors, and children).

Increase transit use and access through first- and last-mile improvements within the project area and between the project area and nearby planned transit facilities (LA Metro Gold Line extension station at Washington and Rosemead Boulevards and the future BRT line along Rosemead Boulevard).

Identify opportunities for new, mixed-use development and higher-density transit- oriented affordable housing for a variety of income levels.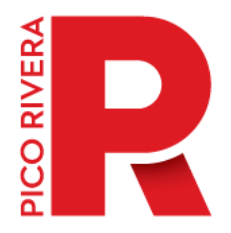 The City of Pico Rivera and the Pico Rivera City Council have developed the holistic vision for Pico Rivera 2035, which includes the Historic Whittier Boulevard Revitalization program. The City will lead the implementation of the Historic Whittier Boulevard Revitalization program which will seek to reimagine and uplift our historic corridor into a resilient, walkable, people-oriented "uptown" featuring thriving businesses, housing and community spaces. City staff will embark on immersive and robust community outreach campaigns to educate residents and stakeholders, solicit feedback and integrate it into the plans for the future Historic Whittier Boulevard starting with the development of a Specific Plan and Multi-Modal Streetscapes Plan.
CivicWell (Formerly Local Government Commission)
CivicWell is a 501c non-profit organization that supports local elected officials, community organizations and government agencies in implementing policies that deliver sustainable, equitable and livable communities. CivicWell is partnering with the City of Pico Rivera to provide direct assistance through program management and project coordination services across multiple projects that collectively form the Historic Whittier Boulevard Revitalization program, a component of the larger Pico Rivera 2035. CivicWell is actively managing the development of the final Specific Plan and Multi-Modal Streetscape Plan for the Historic Whittier Boulevard Revitalization Program.
Day one is a 501c non-profit organization with over 30 years of experience conducting community outreach, facilitating community meetings, forming coalitions, and implementing community-driven strategies that promote healthy, active communities through evidence based policy and health-oriented city/urban planning. Day one specializes in meaningfully engaging communities and youth, especially among vulnerable and underserved communities. Day One will work directly with CivicWell to support community outreach, engagement and communication efforts under the Historic Whitter Boulevard Revitalization Program.
Mobility & Streetscape Plan
Whittier Boulevard Specific Plan
Business Improvement District
Pio Pico Park Bridge/Trail
Electrical Box Art Program
Median Landscaping & Beautification
Eastside Open Streets Festival
More information on these projects coming soon!