Visiting a California State Park just got easier thanks to the California State Parks Library Park Pass. California State Parks provides free vehicle day-use entry to over 200 participating State Parks to County Library cardholders.
The California State Library Parks Pass will be valid for entry of one passenger vehicle with a capacity of nine people or less or one highway licensed motorcycle. Just like checking out a book, the passes will be available for check out. Once used, they can be returned to the library.
All 85 of our libraries will be receiving passes, which can be borrowed for 3 weeks, just like a book.
To view an interactive map with California's public libraries and nearby participating state parks, https://bit.ly/stateparklibraryparkpass.
The pass will not be honored at state park units operated by federal or local government and private agencies or concessionaires. Also, the pass is not valid for per-person entry or tour fees (such as museums), boat use, camping, group use or sites, special events, additional/extra vehicle fees, sanitation disposal use, or for supplemental fees. For more information, check with your local library or visit www.parks.ca.gov.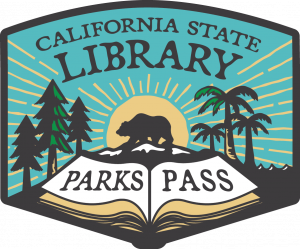 The Pico Rivera Library and Rivera Library are both open and resuming all regular in-person services. Both Libraries are currently selling and reloading Metro Tap cards. The study rooms at the Pico Rivera Library are available to use for up to two hours per person/group. Community groups and individuals can reserve the meeting room at both the Pico Rivera Library and the Rivera Library for meetings and events. Please contact the library for additional information about the reservation process and costs.
In-person programs for children, teens, and adults are resuming at both the Pico Rivera Library and the Rivera Library.
For a list of this month's events, visit the County Library's website at Visit.LACountyLibrary.org/events and filter by location or event date. Attendance is limited, and advance registration is required. Registration opens one week before each program. Registrations are taken online or call the library to register.
Rivera Library will be closed on Monday, May 30 for Memorial Day.
For more information about library services offered to City residents, call the Pico Rivera Library at 562.942.7394 or the Rivera Library at 562.949.5485.