The new Veterans Resource Center, located at the Pico Rivera Senior Center, will be taking Veterans Service Officer appointments for 2023 as all of December's dates have been booked.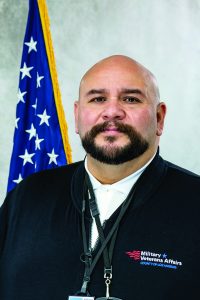 The Veterans Service Officer (VSO) is a key component of the City's new Resource Center. The VSO that serves this area is Kenneth Gonzales, Jr., who is an Accredited California Department of Veterans Affairs Service Officer able to provide expert assistance to Veterans and their families.
Kenneth is no stranger to Pico Rivera. His family has been in the City since his grandfather bought his home in 1963. He was born and raised in the City, participated in City programs at the local parks, and graduated from El Rancho High School. Kenneth then joined the United States Navy, where he proudly served for four years, and is a Gulf War Veteran. After his service, he worked in Bail Bonds before working for the County of Los Angeles as a Veterans Service Officer.
So far, Kenneth has had a busy month at the Pico Rivera Resource Center, with all of the available December dates booked as soon as the Center opened.
"With all of December booked, we are glad to see that our City's Veterans and Veterans from nearby communities are receiving the help that they need regarding Veterans services," said City Manager Steve Carmona.
Helping Pico Rivera Veterans is something that Kenneth is committed to doing. He can provide Veterans with valuable assistance in applying for federal and state benefits and claims, as well as information on burial services, survivor benefits, transportation, and a slew of other Veterans services.
"What we hope to accomplish with the Veterans Resource Center is to provide Veterans with resources they may not know are available," said Carmona. "When they make an appointment and speak to our VSO, I believe the information and assistance they receive will alleviate any stress or doubts a Veteran had regarding applying for or receiving any entitled benefits and services."
The Veterans Resource Center is just one of the services available for Veterans. The City's Virtual City Hall also includes a Virtual Veterans Veterans Resource Center Now Open Veterans Service Officer appointments for 2023 will be taken Resource Center, which will provide Veterans with even more access to resources at the convenience of their home computers or mobile devices.
The Pico Rivera Veterans Resource Center will be available inside the Pico Rivera Senior Center Monday through Thursday. The VSO will be available on Mondays from 8:00 a.m. to 3:00 p.m., and staff and volunteers will be available Tuesday through Thursday from 10:00 a.m. to 2:00 p.m.
For additional information or to make an appointment with the VSO, call the Senior Center at 562.948.4844.