Do you own commercial property within the City? Would you like to beautify your building to improve its marketability? If so, the City of Pico Rivera may have a program for you. The City is currently offering a Commercial Façade program incentive to qualified commercial property owners. This program consists of an 80% grant and 20% loan combination for up to $175,000.  Funds can be used for exterior facade improvements to the building, such as painting, attached signage, awnings, window change-outs and building lighting. 
Our first project, Cocina Restaurant at 4901 Duree Avenue, is a prime example of what can be accomplished through this program.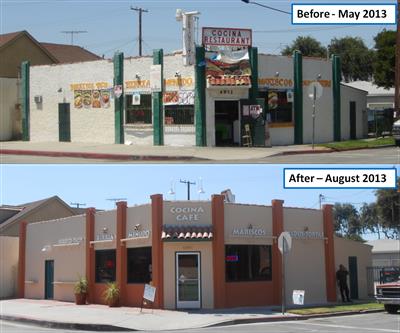 Additional information about the program:
Funding is available on a first-come-first-served basis.
Projects are subject to federal labor compliance/prevailing wage requirements.
Eligibility is based upon the income of the neighborhood where the business is located. Not all properties qualify for the program. To determine if your business is eligible or for more information, please contact us.
Award amount is calculated at $750 per linear foot of building frontage, which includes only the primary facade of the building which faces a commercial thoroughfare. Front linear footage does not include rear facades, alley facades or secondary facades which do not front a main commercial thoroughfare. 
Properties with a linear frontage greater than 233 feet shall be capped at $175,000. 
Industrial properties are not eligible.
Program Goals
Improve visual quality of the buildings and streetscape.
Enhance or restore building to attract new businesses.
Restore economic vitality and investment confidence.
For more information regarding the program, please contact Guille Nunez, Senior Planner at (562) 801-4332.