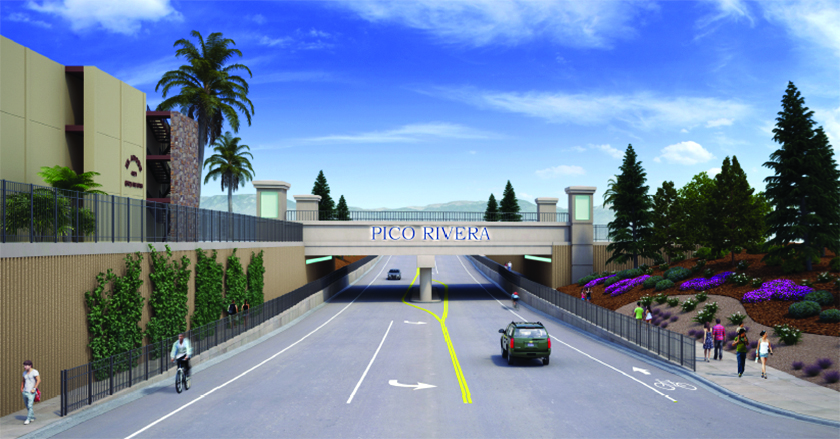 Project Description
The Durfee Avenue Grade Separation Project will separate the roadway and the railroad tracks on Durfee Avenue in the City of Pico Rivera. Plans call for constructing a roadway underpass on Durfee Avenue between Beverly Road and Whittier Boulevard under the Union Pacific railroad tracks with retaining walls and a new railroad bridge.
Construction Notices
To view construction notices for this project, please click HERE. 
Project Status
Major construction activities began in February 2020 with the closure of Durfee Avenue for underpass and bridge construction. The project cost is estimated at $107.8 million.
Project Impacts
The project will reduce an estimated 15.3 vehicle hours of delay each day at the crossing, traversed by 49 trains per day, projected to increase to 91 trains by 2025. Durfee Avenue carries 13,600 vehicles per day which is projected to increase to 14,300 vehicles by 2025. The project will eliminate delays for emergency responders and crossing collisions. Ten collisions have been recorded at the crossing since 1981, resulting in five fatalities. Safety for pedestrians and bicyclists will be improved, with 563 pedestrians and 214 bicyclists counted over a 14-hour period in January 2013. Emissions from idling vehicles will be reduced and locomotive horn noise eliminated.