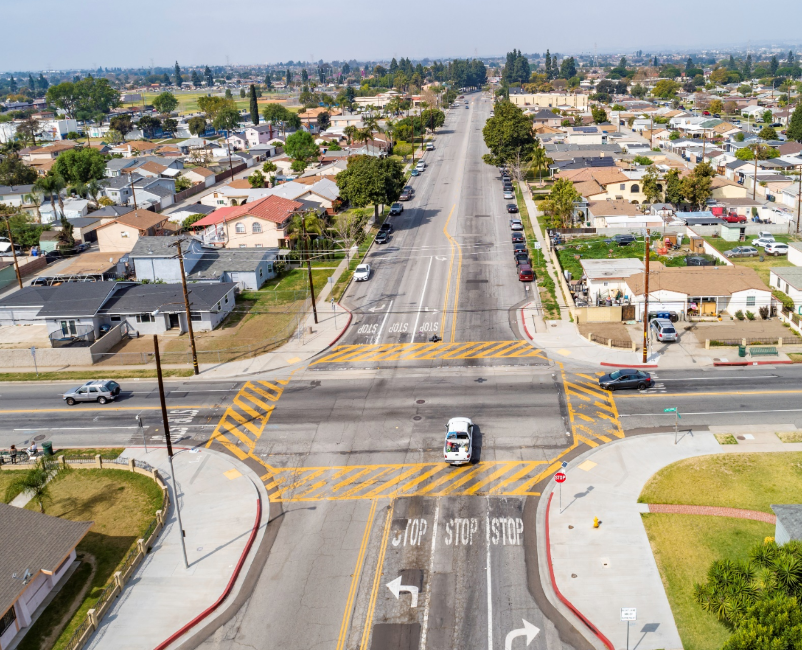 Mines Ave. Bikeway Project
This Project proposes to construct a 1.1-mile bicycle protected path along Mines Avenue from the Rio Hondo Channel to the San Gabriel River. Mines Avenue is an 80-foot wide two-lane undivided roadway that functions as a collector facility from the City's western edge to Passons Boulevard. Mines Avenue allows for east-west circulation in the central portion of the City and provides pedestrians, cyclists and motorists direct connection to principle arterials Paramount Boulevard and Rosemead Boulevard at signalized intersections. Mines Avenue is located between two regional bike trails, the Rio Hondo Bike Path to the west and San Gabriel River Bike Trail to the east. The protected bike lane along Mines Avenue will improve regional mobility by providing a safe and protected facility to connect the two regional bike trails.
Improvements along Mines Avenue include construction of a permeable Class IV bike lanes buffered with a bioswale along the southern curb of Mines Ave from Paramount Blvd to Rimbank Ave. The project proposes to reconstruct non-compliant ADA curb ramps and sidewalk at various locations along Mines Ave from Paramount Blvd to Rimbank Ave. Additional improvements along Mines Ave within the project limits include planting of drought tolerant landscaping within the bioswale irrigated with reclaimed water to improve project sustainability, installation of filterra biotreatment systems along the northside of Mines Ave to increase stormwater capture and treatment, planting of trees within the parkways along Mines Ave, new signing and striping including wayfinding signs and installation of high visibility crosswalks at intersection crossings and modifications to the existing traffic signals at Mines Ave and Rosemead Blvd and at Mines Ave and Paramount Blvd. Signal improvements at each intersection bicycle signal heads and signal timing and synchronization.
The Project will provide connectivity to existing bicycle facilities and provide the community with an opportunity to walk and/or bike in a safe and protected environment to visitors, seniors, students, residents considering Mines Avenue provides direct access to a Senior Center, Smith Park, the Pico Rivera County Library and principal arterials. The goal of the project is to provide safe multimodal transportation and improve storm water quality for the region and local community. 
Design Completion – Spring 2023
Bidding Construction Start– Spring/Fall 2023
Construction End – Summer 2024
Caltrans Federal Active Transportation Program Cycle 2 – $3,923,000
California Natural Resources Agency Urban Rivers Grant Program – $1,801,615
Local Return (Measure M, Measure R, TDA) – $1,190,000

Mines Regional Bikeway Project PowerPoint