CONTRACT INSTRUCTORS WANTED
Share your creative talent and love for teaching with the Pico Rivera community. We are looking for innovative, talented, and proficient contract instructors to teach classes that enhance the quality of life for the Pico Rivera residents. 
Now accepting class proposals for a variety of programs for all ages such as: 
Art (various)

 

Balloon Design

 

Cake Decoration

 

Crafting

 

Dance (Various)

 

Digital Photography

 

Dog Training

 

Fitness Classes

 

Floral Designs

 

Gymnastics

 

Meditation

 

Music

 

Older Population Exercise

 

Parent & Me

 

Youth Exercise

 

Youth Sports

 

And more…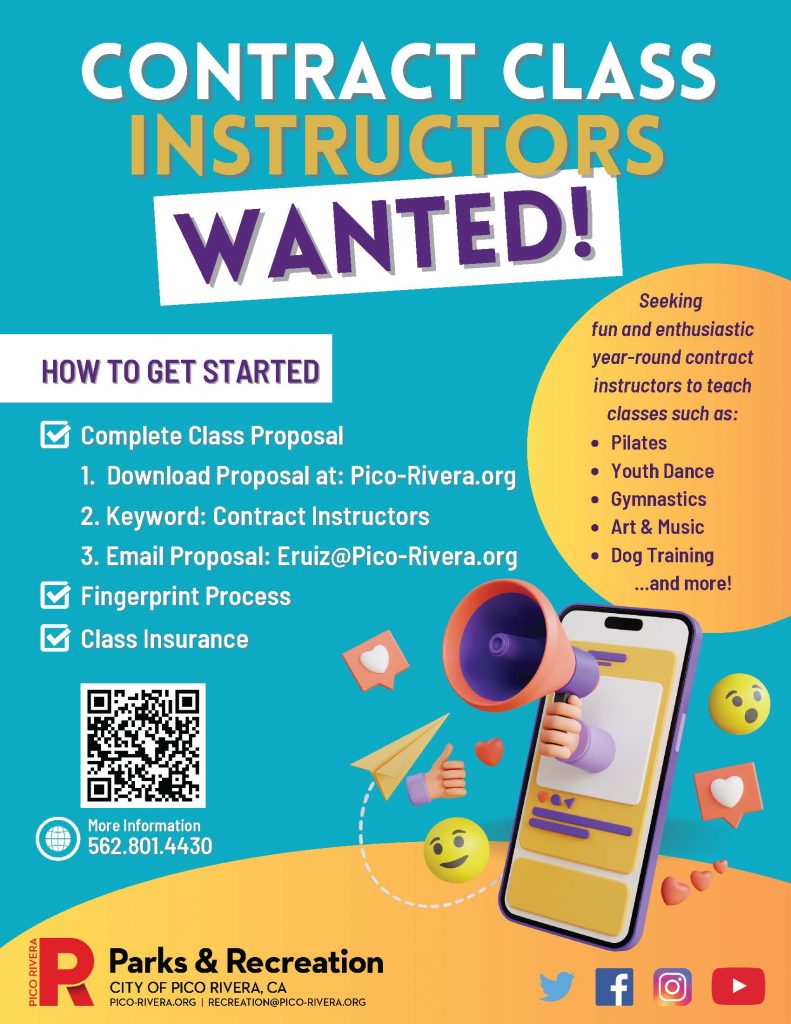 REQUIRED PAPERWORK
Download PDF: Contract Class Proposal
All paperwork to be submitted to park site staff or direct via email to Recreation Coordinator, Eyvette Ruiz.
Please be advised, submission of a class proposal does not guarantee selection as a contract instructor. If the proposal meets the Department needs, the potential contract instructor will be contacted to schedule a follow-up appointment.
Eyvette Ruiz
Coordinator 
8421 San Luis Potosi Place
Pico Rivera, CA 90660
(562) 801-4932
Email: eruiz@pico-rivera.org