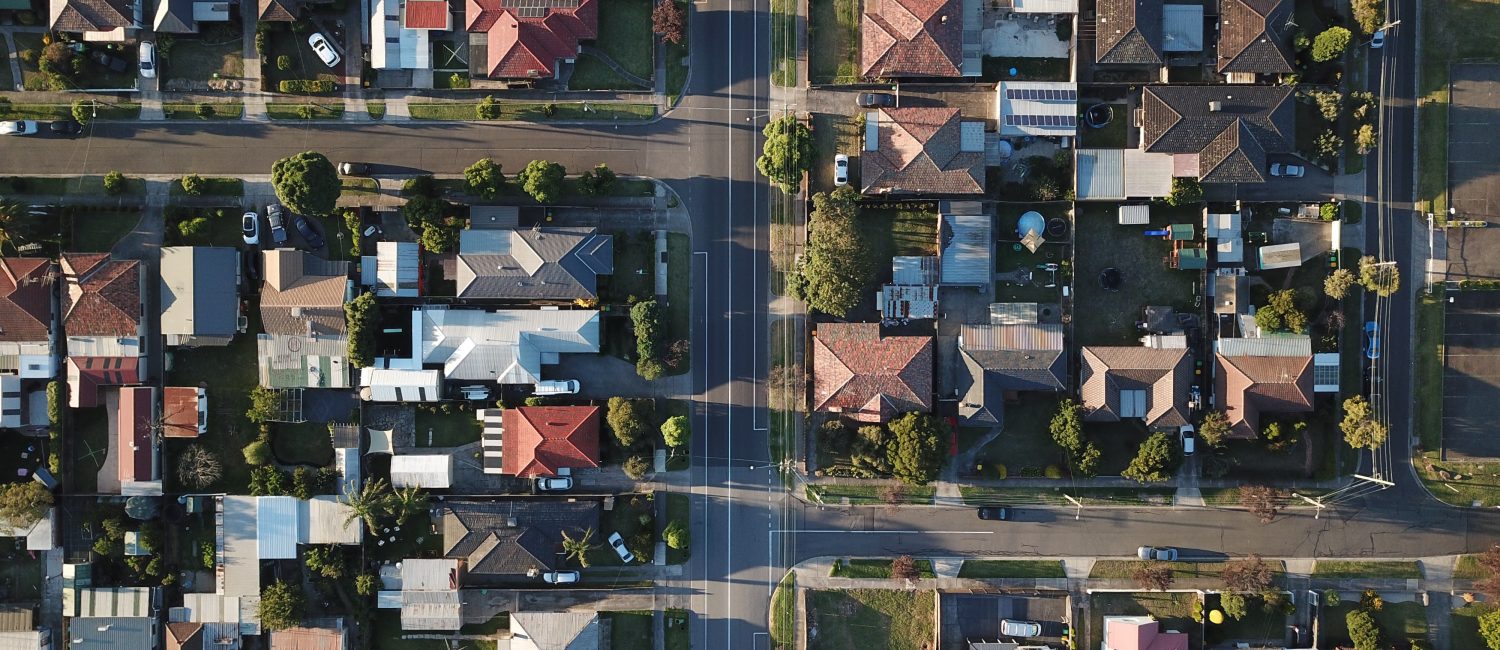 Comprehensive Zoning Code Update
Comprehensive Zoning Code Update
Project Overview
On November 2022 the City began a project to prepare City-wide Design Standards and Guidelines for residential, commercial, industrial, and mixed-use development. The project has currently expanded to include a Comprehensive Zoning Code Update. Occasional text amendments notwithstanding, the Zoning Ordinance was last updated in 1993. Additionally, as the City's consultant team reviewed Title 18 Zoning of the Municipal Code for approaches to drafting and incorporating the new design standards and guidelines into the existing section of the Code several challenges were identified. The challenges included redundant and wordy text, an inefficient note system used for development regulations and land uses and an antiquated approach to current development standards.
The last comprehensive update to the City's zoning code was in 1993 and has only been modified through a series of smaller amendments over the past 30 years. This has posed challenges in implementing new amendments to an older code with outdated terminology and organized in a manner that is cumbersome to navigate. The purpose of this new expanded project is to create a more user-friendly zoning code that is consistent with the City's vision and goals. 
This webpage will serve as your one-stop shop for information on the project, which will now be known as the Comprehensive Zoning Code Update. Below is the project Fact Sheet and some helpful information regarding Objective Design Standards and Guidelines, which will continue to be a part of the project. Please check back soon as we continue to update the webpage for more information on the Comprehensive Zoning Code Update!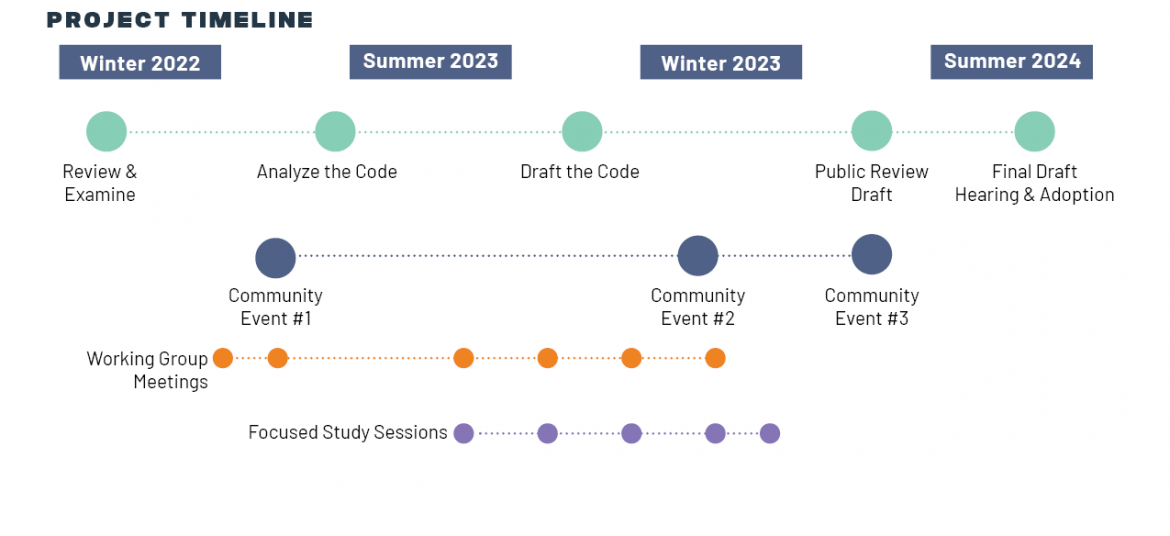 Planning Commission Study Sessions 
The project team will hold four study sessions with the Planning Commission to discuss the Comprehensive Zoning Code Update. Study Sessions are open to the public and we invite you to attend an upcoming session!
Location:
City Hall Council Chambers
6615 Passons Blvd, Pico Rivera, CA 90660
Time: 6 p.m.
Dates and Topics
October 16, 2023– Overall Zoning Code *Completed*
The first study session was held on Monday, October 16, 2023. The project team provided the Planning Commission and public with a project overview to date, including findings from the Zoning Code Diagnostic Analysis, highlighting general issues and opportunities in updating the Zoning Code. Please click here to see the presentation slides. 
December 18th, 2023 – Zones and Use Regulations
Please join us for the second of four scheduled study sessions with the Planning Commission to discuss the Comprehensive Zoning Code Update. The project team will provide the Planning Commission and public with a project update and overview of work completed to date, including an overview of focused discussions with City staff and the Technical Working Group, draft land use regulations by zone, special use standards, and proposed recommendations for the outline of the newly reorganized Zoning Code. This Study Session will allow Planning Commission to provide focused feedback and input that will ultimately help to guide the project team's approach for subsequent rounds of work.
February 5th, 2024 – Development and Design Standards
March 18th, 2024 – Administration and Procedure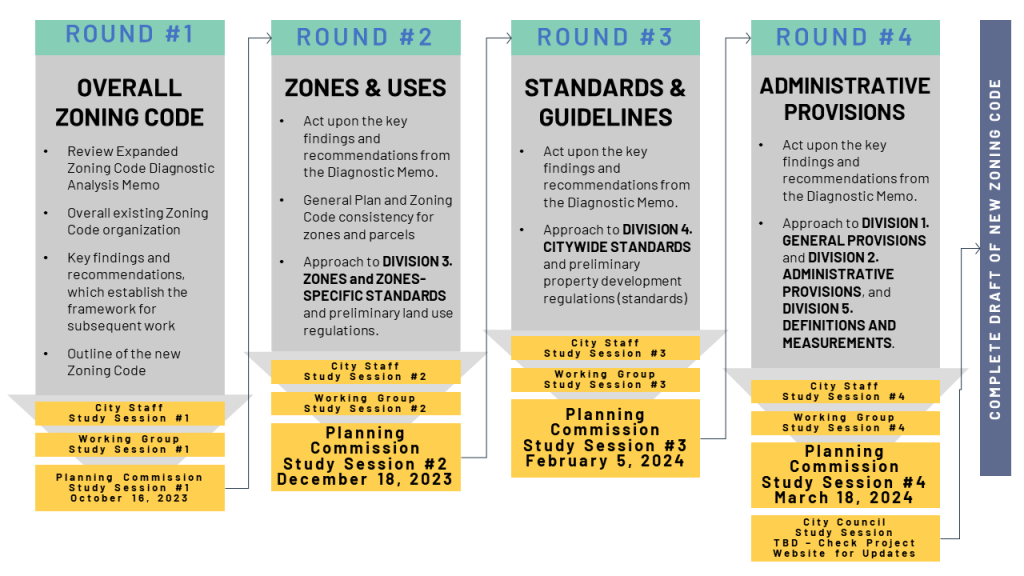 Community Working Group Meetings
The project team established a Working Group made up of residents, business and property owners, as well as design and development professionals living or working within the city. The purpose of the Working Group is to meet regularly with the project team to provide input and feedback throughout the project. Agendas and presentation slides are posted below.
Meeting #1- February 8, 2023
Meeting #2- April 8,2023

 Working Group members were invited to be part of the community outreach during the Easter Eggstravaganza 
Meeting #3- September 27, 2023
How to Get Involved!
Your voice matters! Your feedback will help shape the process and define the future of building design in the city. City staff will post all community outreach efforts and opportunities for community feedback on this page. Please check back for updates soon!
Sign up for our mailing list to get updates of upcoming meetings and ways to engage!
Community Outreach Event #1
The first Community Outreach Event was held on April 8, 2023 during the Pico Rivera Easter Eggstravaganza. Members of the community learned about the project and provided us with their feedback on what makes Pico Rivera a beautiful, vibrant, and safe city. Additionally visual preference surveys were made available.
Project Team
The consultant team for this project includes Dudek, a planning and urban design firm, with community engagement support from the Los Angeles Neighborhood Initiative (LANI), a neighborhood revitalization-focused non-profit.
City of Pico Rivera staff, Estefany Franco is the project manager. For any questions regarding the project you can email codeupdate@pico-rivera.org or call (562)801-4026.